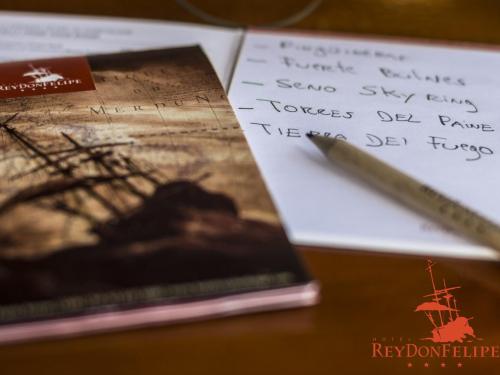 RACK HOTEL REY DON FELIPE RATES 2017/2018

When making your direct reservation through our website www.hotelreydonfelipe.com , you will be asked for credit card information only to guarantee the reservation. Hotel Rey Don Felipe will make the corresponding charge to the stay the day of the check out.
Rate in Chilean pesos, consider VAT (19%)
Foreign fares (US Dollars) does not include VAT (19%), only applies with a visa stamped by international police and entry card to the country, with a date not exceeding 60 days.
Early Check In: ​​50% of the value of the rate, depending on the room booked.
Late Check Out: 50% of the value of the rate, depending on the room booked.
Rate includes: Accommodation, breakfast buffet in restaurant between 7:00 and 10:00 Hrs., Wi-fi Internet access in rooms and public areas of the hotel, business center, gym and SPA access (sauna, whirlpool tub), parking Private non-guaranteed (limited availability).
ENVIRONMENTAL SUSTAINABILITY MEASURES
WATER & TOWELS
Our hotel strives to offer a high level service that allows a comfortable and pleasant stay. At the same time, we are concerned about minimizing the impact on the natural resources that produce tons of detergent and millions of liters of water that are used every day to wash sheets and towels that have been used only once, so that the bedding and Towels are only changed every two days for guests who stay more than one night.
However, if you wish to have your towels changed after being used, we ask that you leave them on the bathroom floor.
SOAP SHAMPOO
On the other hand, as a way to contribute to the reduction of pollution and the care of the environment, Hotel Rey Don Felipe has implemented the use of soap and shampoo dispensers in sinks and showers in contribution to these objectives.
We appreciate your understanding and collaboration in this crusade.